Bloomingayles opened in November 2013 at the Mill Valley Lumber Yard, along with Guideboat Co. and Ambatalia. Artist studios, other retail shops and cafe, coming soon!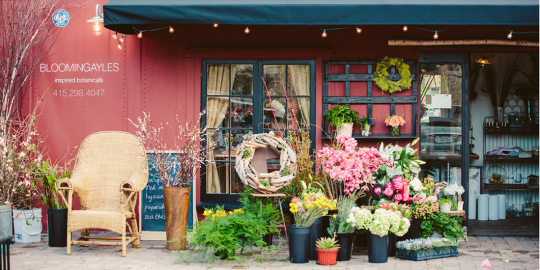 BLOOMINGAYLES 
PLANTS, CONTAINERS AND RELATED HOME AND GARDEN ACCESSORIES AND A CUSTOM, INSPIRING FLORAL DESIGN STUDIO
Bloomingayles' founder, owner and Mill Valley resident, Gayle Nicoletti, describes her non-traditional style of creating natural arrangements as European with a West Coast twist. Bloomingayles celebrates the entire life of the flower, from seedling to the last petal falling to the tabletop. Bloomingayles evokes your senses with our signature creations and curated collection of nature inspired hostess gifts, vintage and modern objects for the home and fresh and permanent seasonal arrangements.   Bloomingayles serves many blooming needs; whether it be simply one bouquet for a gift or your own home, an intimate dinner party, family events, weddings or parties, Bloomingayles customizes something special for any occasion. Additionally, Bloomingayles stocks nature inspired permanent installations and plants for residences and businesses as well as vessels and vases for all your arrangement needs.
located in the Train Car
Monday – Friday  11-6,  Saturday 11-5,  Closed Sunday
Orders may be placed for pick-up & delivery
www.gaylenicoletti.com
[email protected]
415-298-4047
Hope to see you soon!!