Archives for May 2012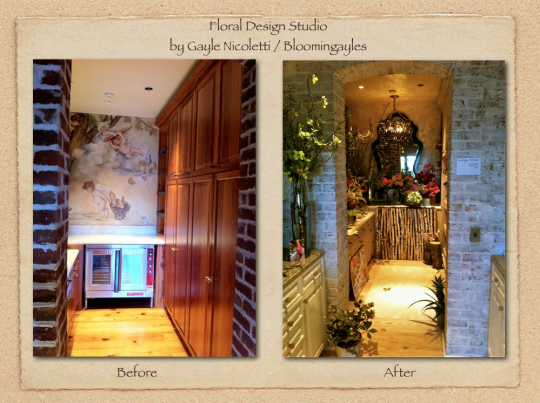 I believe that part of the joy of living is entertaining and celebrating. The Floral Design Studio space is an integral part of an artistic lifestyle…acting as a  fresh new canvas to provide a perfect backdrop for imagining and creating floral and horticultural designs, to house books, tools, collections, china, linens, objets d'art for setting the table, planning menus, holidays and celebrations. One can draw inspiration from the images and tear sheets on the wall. The Floral Design Studio is where you can discover your own philosophy of entertaining at home.  I submitted my idea and was awarded the opportunity to transform the room.
Charlotte and Elan of Sonoma Decorative Arts carefully removed the mural, custom finished the walls, cabinets and floor cover.  I selected a Chippendale mirror and Arteriors chandelier from Cabana Home and had them installed by Peter Englander.  I borrowed objets d'art from Lauren McIntosh, owner of  Tail of the Yak and filled the cabinets with linens and items for table settings.  I have hung images of wedding and events I have designed for inspiration.  I have displayed  my  floral designs, plantscapes, and permanent (artificial) arrangements. I designed a birch branch and moss screen to camouflage the oven, which is removable should one need to bake.
So many Showcase guests have commented that they would love to have a Floral Design Studio in their home.
I hope you will have the chance to come by the San Francisco Decorator Showcase 2012 home on Jackson Street in San Francisco.  Open through May 28th. Proceeds benefit the financial aid program  at University High School.
This is a panoramic image of my Floral Design Studio taken by photographer, Peter Medilek.